King Long Press Conference Successfully Held in Tunisia
2016-11-18
On November 18th, 2016, King Long held press conference with local partner in Sheraton Hotel, Tunis, capital city of Tunisia. This high-profile press conference was attended and addressed by Bian Yanhua, ambassador of Chinese Embassy in Tunisia. Besides, the event was also joined by Counselor Li Jing, from Economic and Commercial Counselor's Office of the Chinese Embassy in Tunisia; ministers of Tunisian Ministry of Transport, Ministry of Industry, Ministry of Finance as well as representatives of Tunisian political parties and some members of Tunisian congress. Furthermore, ambassador of Republic of Korea Embassy in Tunisia and ambassador of Embassy of India in Tunisia attended and expressed their congratulations on the event as special invited guests of Zouari Group.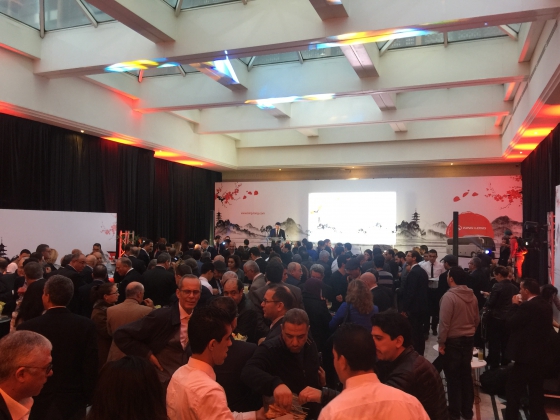 Spectacular Event
Located in the northern most of Africa, Tunisia is closely linked to Europe and is home to assembly sites of many famous bus & coach brands of Europe. Market has raised strict requirement and put forward high standards for bus & coach products. King Long has cooperated with its local partner for three years since 2013. Under joint efforts, five prototypes of three vehicle types have been developed and received local certification. 50 units of King Long XMQ6800Y have been successfully delivered to end users, which marks the first large volume export of Chinese vehicles to Tunisia. King Long, therefore, becomes a new but key player in the local bus & coach market.
Ambassador Bian Yanhua congratulated on King Long. As stressed by the ambassador, King Long, a renowned Chinese bus & coach brand, is the proud of Chinese bus & coach industry because King Long is the first one to export vehicles and serve Tunisian people.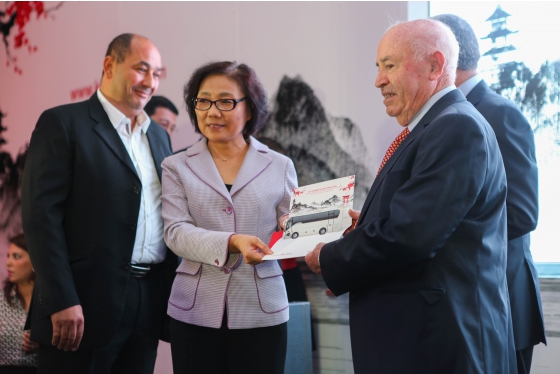 Ambassador Bian Yanhua Delivers Remarks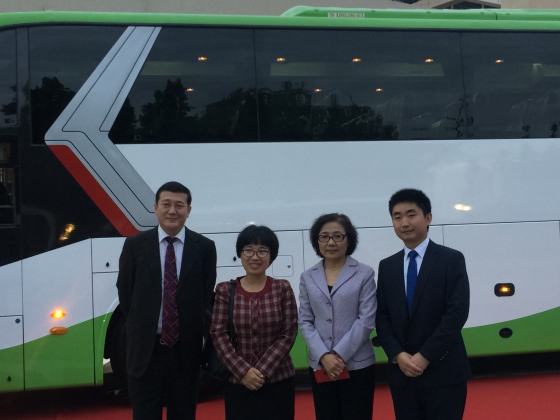 H.E. Ambassador Bian Yanhua from Chinese Embassy in Tunisia Delivers KLM Buses to End Users and Takes Group Photo with Presenting Guests
The chairman of King Long's local partner, attended and delivered remarks at the event. It boasts a wide range of business fields, including heavy industries and agricultural machinery distribution, passenger cars distribution, assembly and distribution of commercial vehicles (pickup trucks, heavy and light duty trucks), olive oil production, freight logistics etc. The chairman noted in his speech that distribution and future assembly of King Long would become a key business domain of the company. Apart from bringing in excellent bus & coach products, a lot of employment opportunities can be generated, which is a boost to local economy.
Li Peng expressed gratitude to Ambassador Bian and presenting guests. Li Peng introduced the development course of King Long, the design and production capacity of King Long and the future development planning. As noted by Li Peng, closer cooperation with Zouari Group, better sales and after-sales services will be expected. King Long will live up to expectations and seek new breakthroughs.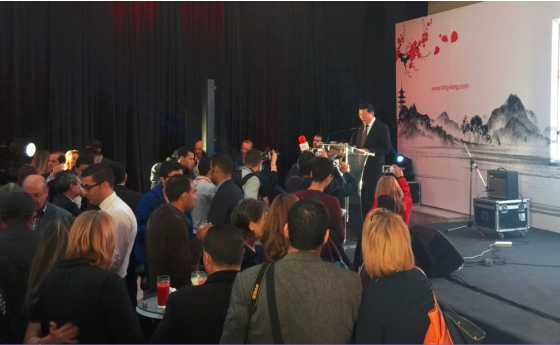 Li Peng, Manager of King Long, Addresses the Audiences
The press conference was attended by over 300 guests including representatives from Tunisian state-owned and private passenger transport enterprises, vast majority of tourism companies as well as Xinhua New Agency's correspondents in Tunisia, journalists of Economist, reporters from Tunisian local TV stations, newspapers and local media agencies. After observing and experiencing prototype vehicles, guests spoke highly of these prototypes. Meanwhile, King Long received wide recognition because of its high-quality products, designs and craftsmanship.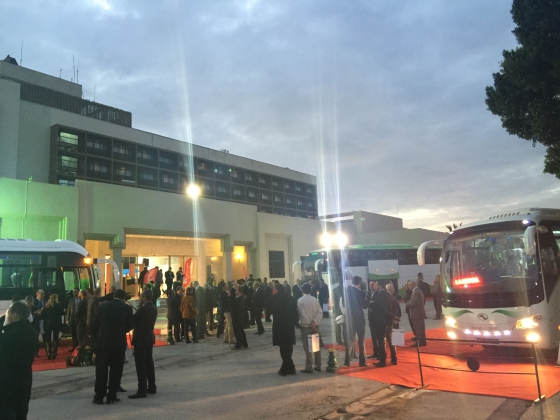 Guests Tour around the Displayed Vehicles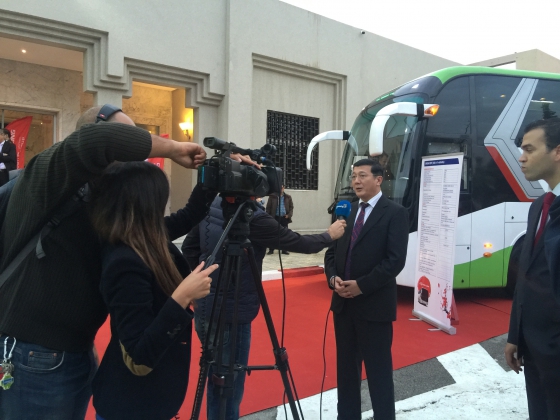 Manager Li Peng on Behalf of King Long Receives Interviews by Local Media
Since 2000 up till today, the CAAGR of King Long's export sales volume has already stood over 50%, reaching out to over 130 countries and regions across five continents. At present, foreign ownership of King Long has hit 70,000 and over 80 authorized dealers and service agencies have been set up overseas. During the first half of this year, King Long exported nearly 5,000 vehicles, ranking first in the sector.
In the future, King Long will accelerate its pace to go global and serve the whole world through its high-quality Made in China products and service.