King Long New Energy Bus Attended CNGV2016
2016-12-07
On December 7, 2016 China Energy Saving & New Energy and China Internet NGV Industry Conference (CNGV2016 for short) were grandly launched at Xiamen International Conference & Exhibition Center. More than 500 representatives from new energy vehicle manufacturers, key components manufacturers, industrial associations, and universities were gathered in Xiamen for in-depth exchanges on the current situation and development trends of natural gas vehicle and new energy vehicle.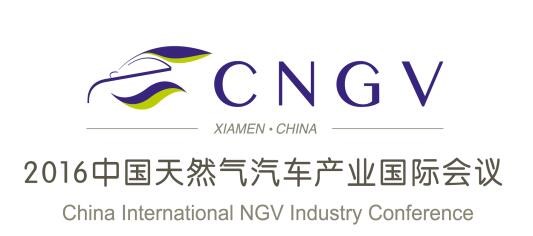 CNGV focused on the future development trends against the background of the ever-changing industry, and probed into hot topics in the industry, including the current situation and challenges in the development of new energy automobile industry at home and abroad, the pattern of vehicle energy in the future and the development prospects for new energy vehicle. During this CNGV, King Long highlighted Kingo pure electric minivan, XMQ6850G plug-in hybrid electric bus and XMQ6129 pure electric coach, demonstrating its strength in the field of new energy in an all-round manner.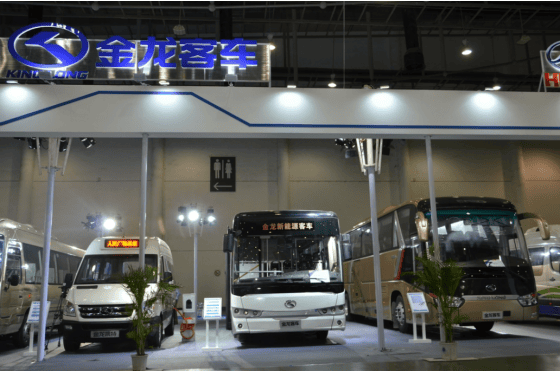 Three New Energy Vehicles of King Long Bus Debut at CNGV2016
Through reasonable arrangement of interior space, King Long Kingte pure electric minivan is small in size but large in capacity and can accommodate up to 15 passengers. Equipped with the industry-leading motor and battery and independent-developed core control technology, the whole vehicle has a powerful engine output and a maximum endurance mileage up to 260km. Moreover, sedan-style design and hill-start assist control system allow easier hill-start and flexibilities for various road conditions.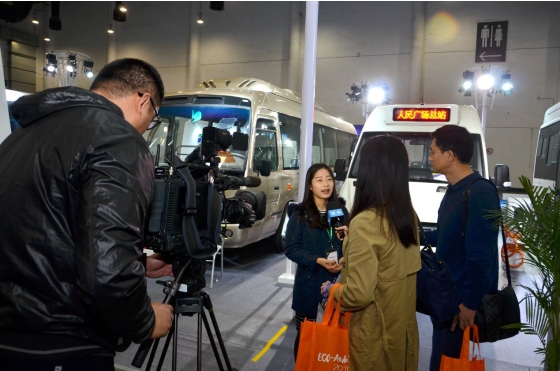 King Long Pure Electric Micro Bus Attracts Attentions from Xiamen TV and Other Media Outlets
XMQ6850 plug-in hybrid electric bus acts as a new model of green medium-sized bus, combining both effectiveness and well-designed exterior appearance. The bus employs the independent-developed ISG plug-in hybrid powertrain and 5D value driving system, and the latter makes operation and management more intelligent and is widely used in oil-electric and gas-electric hybrid platforms. A balance between high horsepower and fuel economy is achieved, and the oil/gas saving rate is up to over 30%.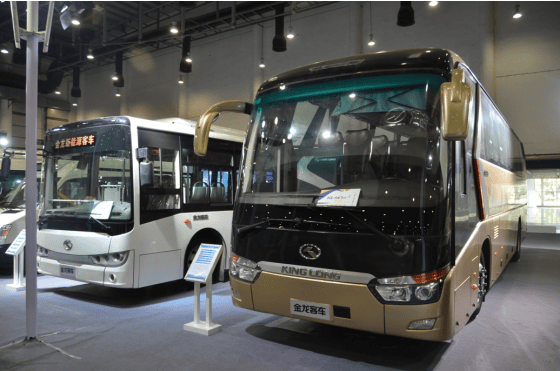 XMQ6850 Plug-in Hybrid Electric Bus (Left) and XMQ6129 Pure Electric Coach (Right)
Longwei XMQ6129 pure electric bus, which is applied to passenger transport, tourist transport and group transport, is a kind of high-end luxury road bus of King Long winning wide recognitions since its appearance in the market. This pure electric bus inherited Longwei's previous classic exterior design and humanized interior equipment; besides, it boasts a powerful engine and a maximum endurance mileage up to 450km. King Long ECO-Chip 2.0 new energy control system provides access to scientific management and remote monitoring, and brings customers higher value in return.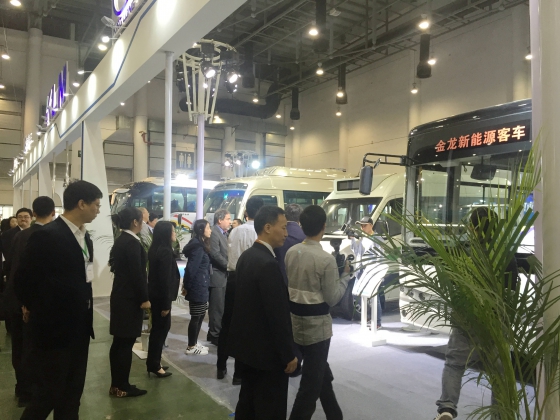 Experts and Audiences Visit King Long Bus's Exhibition Stand
With the continuous popularization of new energy coaches, more and more cities have completed the upgrading from "oil to gas" to "gas to electrical". King Long always serves as a right-hand man to the energy transformation of public transport by its latest technology and products. During the exhibition, it attracted wide attention from industry experts and audiences. On the basis of 28 years' bus manufacturing experience and 15 years' R&D process of new energy vehicle, King Long will make continuous efforts in the new energy field, and provide a more comprehensive solution for eco-friendly transport.