Overseas Big Events of King Long in 2016
2016-12-20
King Long Continues to Strengthen its Presence in Thailand
Based in Xiamen, King Long is one of pioneers in China in exploring the overseas markets. Thanks to its favorable geographic location and China's launch of One Belt, One Road Initiative, the bus maker continues to strengthen its presence in Thailand.
As one of the representatives of well-known brands born in China, King Long has successfully won the hearts of many customers from the Southeast Asian nations. In 2012, 50 units LONGWEI tourist coaches were delivered to Thailand; In 2013, 568 units King Long buses were exported to the country just after the bus maker was invited to attend Thai International Construction Materials & Machinery Exhibition on which King Long brought its two high-end coaches on display; in 2015, 648 units luxurious King Long tourist coaches made their way to Thailand. After this, King Long bus fleet in the nation reached 1,300 units. This year, 515 units travel coaches are all now set to start their journey to Thailand, making the presence of King Long more readily visible in the country.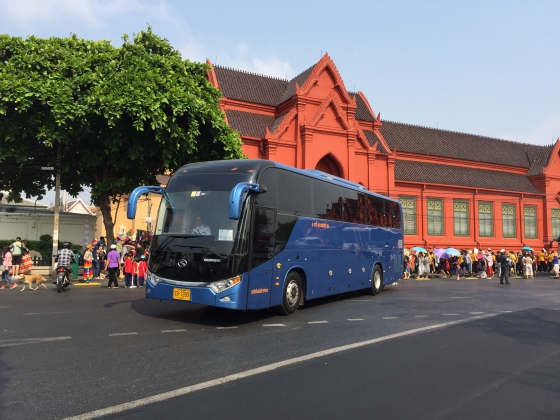 300 King Long Classic City Buses Set their Journey to Saudi Arabia
On March 24, 300 units King Long classic city buses successfully boarded a ship at Xiamen Harbor, ready for their journey to Saudi Arabia. Along with the launching of One Belt One Road Initiative, China and Saudi Arabia upgraded their bilateral relations to comprehensive strategic partnership. Thus, the deal came as a huge step forward for the bus maker's business in 2016.
After their arrival in Saudi Arabia, King Long buses will immediately join Saudi Arabian National Transportation Company. As the biggest carrier in the country, the bus operator boasts over 8,000 units buses in various types. A few years ago, it only purchased internationally well-known brands from Europe, such as Benz and Volvo. In 2011, King Long successfully made its entry into the Middle East nation by exporting 150 units luxurious travel coaches there.
In 2015, China launched One Belt One Road Initiative. Xiamen and Saudi Arabia, as two important points along the modern Marine Silk Road, have found more common ground for cooperation and they have seen deepened ties between the two parties. Last year, 1,140 units King Long school buses were smoothly delivered to a subsidiary of Saudi Arabian National Transportation Company, making a new record in King Long's sales in the overseas market.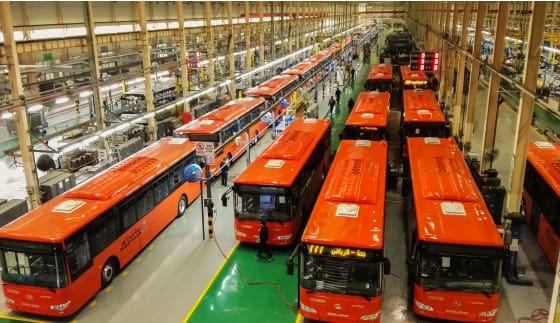 King Long Night Launching Ceremony Held in UAE
On March 6, 2016, King Long, together with its UAE dealer Western Auto, held the King Long Evening in Palazzo Versace Dubai to launch King Long XMQ6101Yand XMQ6106G. The event attracted more than 100 people from transport companies, school bus companies and travel agencies operated by UAE governments. King Long Overseas Marketing Vice Supervisor Ding Mingbin attended the event.
UAE is one of the overseas markets first explored by King Long. Since 2003, we have started to export buses to UAE, taking the leading position among Chinese manufacturers. In addition to the tourism market, King Long also successfully served many major events, such as F1 event in Abu Dhabi and Dubai Airshow. In particular, King Long is the sole Chinese manufacturer of buses whose products are procured by UAE government.
Tourism industry, known as the "flower in desert", is quite developed, providing opportunity for King Long famous for developing boutique tourism vehicles. 2020 Dubai World Expo will be another point that attracts tourists. King Long will keep improving comfort and safety of buses to meet needs of local market.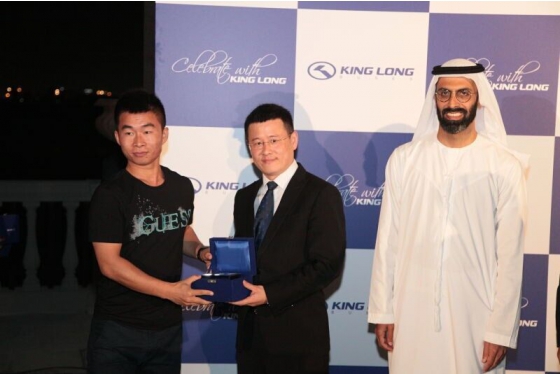 King Long Buses Shipped to Costa Rica for Operation
From May, over 100 units King Long buses with eye-catching designs and high quality standards will be shipped to Costa Rica for operation, shouldering heavy tasks in the nation's booming tourism industry, urban public transportation and inter-city passenger transportation. In 2015, a batch of King Long buses were put on the roads in Costa Rica.
On May 19, a total number of 41 units King Long buses boarded its carrier at Xiamen Harbor. These King Long buses are equipped with chassis from MAN directly imported from Germany and body frames independently developed by King Long. Despite the sluggish economy in South America, King Long has been extremely successful in marketing its whole vehicles to countries in this region.
Like most countries in Latin America, Costa Rica does not have any railways. Thus, people are very dependent on road transportation. Plus its hot weather and unsatisfactory road conditions, buses must can hardly work there before they manage to meet stringent demands from the local bus operators.
"In order to meet all demands set by our customers, we first made a bus model for trial operation. Later, upgrading has been made in a number of areas, including appearance and interior design," says the staff from King Long.
Costa Rica, located in the central America, boasts beautiful beaches, amazing volcanoes and breath-taking rain forests, etc.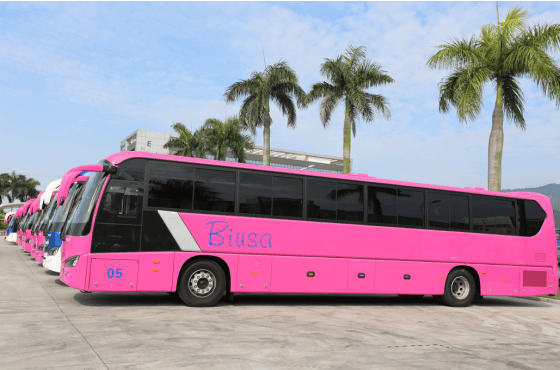 King Long Customized City Bus Solution for La Paz
Recently, a batch of King Long city buses officially start services in La Paz, Bolivia in central parts of South America, which marks the launch of its fourth urban line since the first one in 2014. It is noteworthy that all the buses of the city bus system in La Paz are produced by King Long. So far, over 100 King Long buses are in service, customizing city bus network for La Paz.
"Each traveling King Long is a most influential carrier of the brand, and each owner of the King Long vehicle is our best overseas spokesman. King Long has been deepening and practicing global overseas marketing strategy since it started overseas marketing in 2000, from improving the cost performance of the product to innovating and improving the vehicle performance; from customizing urban bus system to helping clients solve financial difficulty; centered on vehicle, people and solution, it has achieved a win-win global marketing strategy with 'King Long feature'. In the future we are looking forward to creating more successful cases like 'Bolivia' for you and public transport." Stressed by Xie Weiguo, overseas marketing director of King Long.
101 Units King Long Luxury Coaches Were Exported to Saudi Arabia in July
On July 21, 66 units King Long 12m luxury coaches – XMQ6125AYD3 successfully boarded a ship at Xiamen Harbor, ready for their journey to Saudi Arabia. This is the second batch of coaches exported to Saudi Arabia this month, the volume of first batch reaches 35 units.
In Saudi Arabia, King Long is a famous and reputed Chinese coach brand, with local customers' satisfaction, the recognition of King Long's products increasing year by year. According to many local transportation companies, some of pilgrims bound for Mecca every year requested a ride on King Long coach.
Since launching its overseas expansion strategy in 2000, King Long has been maintaining a fast growing momentum in its sales in the global market. So far, King Long buses have made their way to over 120 countries and regions. King Long bus fleet has already passed 70,000 units in the overseas market. Besides, the bus maker has set up 80-plus franchised agents and service offices abroad.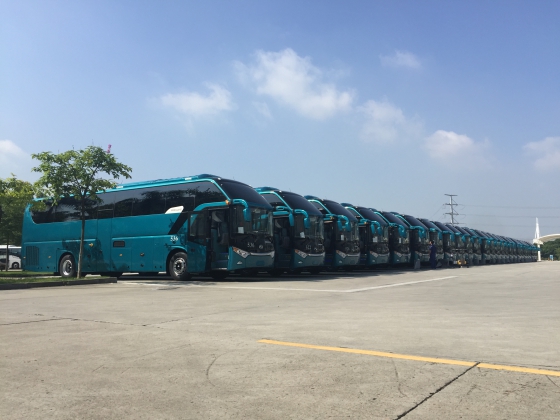 King Long Strengthens its Presence in Egypt
On November 14, the sole agent of King Long minivans, King Long Egypt and a number of sub-dealers arrived in Xiamen, attending 2016 King Long Minivan Egypt Market Business Conference, which was held to further promote the cooperative ties between the two parties and strengthen King Long's presence in Egypt.
At the meeting, KLE team watched a documentary which reviewed the two parties' cooperation in the past years. After watching the documentary, one team member was deeply moved, saying that "China has long been a close friend of Egypt. In the meantime, King Long has long become a trustworthy friend of KLE. We are now more confident about our future." At the meeting, KLE was awarded the King Long Excellent Sole Agent of Year 2016 and it also signed a new deal with King Long for 576 units CKD KINGWIN minivans.
Creating More Value and Leading You to Success has always been the ultimate goal for King Long minivans. Now, King Long has long been well known among Egyptians. Among young people in the country, it is even an enviable means to making money and making a decent living.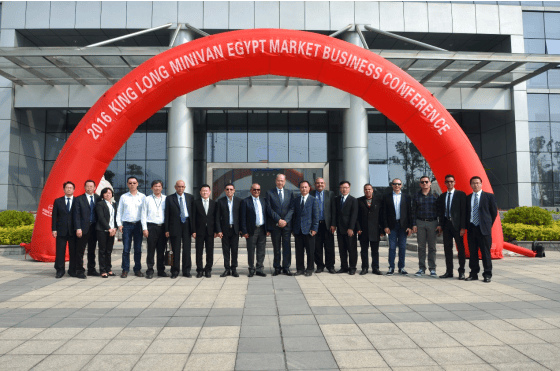 King Long Press Conference Successfully Held in Tunisia
On November 18th, 2016, King Long held press conference with local partner in Sheraton Hotel, Tunis, capital city of Tunisia. This high-profile press conference was attended and addressed by Bian Yanhua, ambassador of Chinese Embassy in Tunisia. Besides, the event was also joined by Counselor Li Jing, from Economic and Commercial Counselor's Office of the Chinese Embassy in Tunisia; ministers of Tunisian Ministry of Transport, Ministry of Industry, Ministry of Finance as well as representatives of Tunisian political parties and some members of Tunisian congress. Furthermore, ambassador of Republic of Korea Embassy in Tunisia and ambassador of Embassy of India in Tunisia attended and expressed their congratulations on the event as special invited guests of Zouari Group.
The press conference was attended by over 300 guests including representatives from Tunisian state-owned and private passenger transport enterprises, vast majority of tourism companies as well as Xinhua New Agency's correspondents in Tunisia, journalists of Economist, reporters from Tunisian local TV stations, newspapers and local media agencies. After observing and experiencing prototype vehicles, guests spoke highly of these prototypes. Meanwhile, King Long received wide recognition because of its high-quality products, designs and craftsmanship.