10,000 King Long Minivans Run Smoothly in Bolivia
2017-03-21
At the end of 2016, the distributor team of King Long minivans in Bolivia arrived in Xiamen to attend the "2016 King Long Bolivia Business Meeting", and won the title of King Long Minivan 2016 Excellent Distributor and placed 410 orders of new vehicles during the meeting.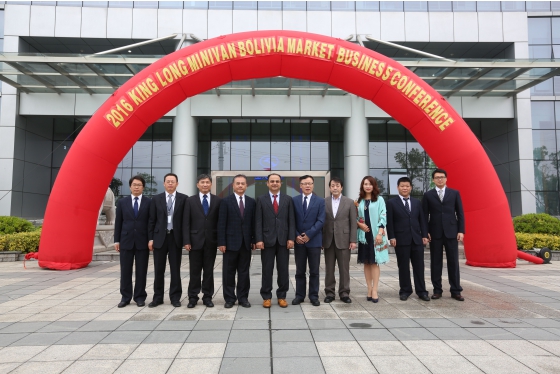 Bolivia, primarily covered by plateaus, is the largest landlocked country in South America, and its capital La Paz is the highest capital worldwide, with an altitude of 3,577 meters above sea level. In this country with a population of only 11 million, King Long has enjoyed great popularity among the local people due to its quality products and service, and, above all, its exclusive distributors' strategic insight and ability to market analysis.
In 2012, King Long and its local distributors of minivans in Bolivia set up strategic cooperative ties. Since then, King Long minivan has witnessed a sales volume of more than 9,500 vehicles in Bolivia, gradually transforming the local market once dominated by used-car. From 2014, the bus brand has been ranking the first place in Bolivia's minivan market for three consecutive years. As of now, King Long has taken a market share of over 40% in the minivan market of Bolivia. At this visit, an order of 410 minivans was signed on site, signifying a good start of King Long in overseas market in 2017.
Xie Weiguo, overseas marketing director of King Long extended gratitude to the outstanding contributions distributors in Bolivia made in local minivan market. He said, "King Long enjoyed a stepwise growth in business volume in Bolivia for the past five years, and nearly 10 thousand King Long vehicles served the local people for transportation, winning both champions of new car sales and market share in the local market. We believe that another sales success will be achieved under our cooperation!"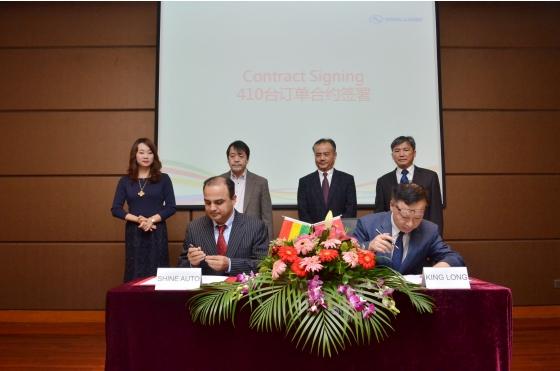 King Long and Shine Auto are Signing the Purchase Agreement of 410 Minivans
During the annual business meeting, the two sides exchanged views on the following cooperation. After reviewing the history of cooperation between Bolivia and King Long, Bolivia's distributor teams were deeply touched and extended their thanks to the consistent support from King Long. They also bear high expectation for the future cooperation with King Long, "Five years ago we started to work with King Long and now process has been made after years of joint efforts. But we know it is not the end and we have faith in that with deepen cooperation much more achievements will be made."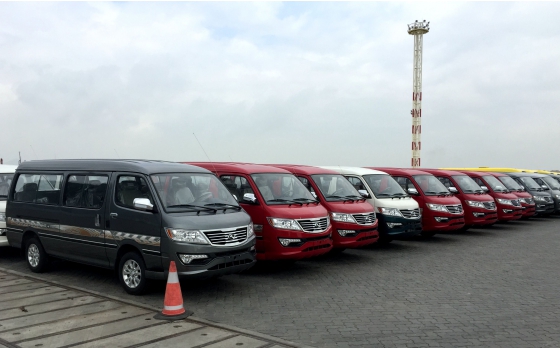 King Long's Minivans are Waiting at the Dock to be Shipped to Bolivia
In fact, King Long has not only made great achievements in Bolivia's minivan market, but also took the crown in the coach market. In 2013 and 2015 respectively, in the two fierce competitions that Bolivia's capital La Pas bid for coaches across the world, King Long edged out and offered 141 top coaches to the residents in La Pas. The locals initiated warm welcoming ceremonies for the arrival of the vehicles, revealing their high recognition of King Long brand.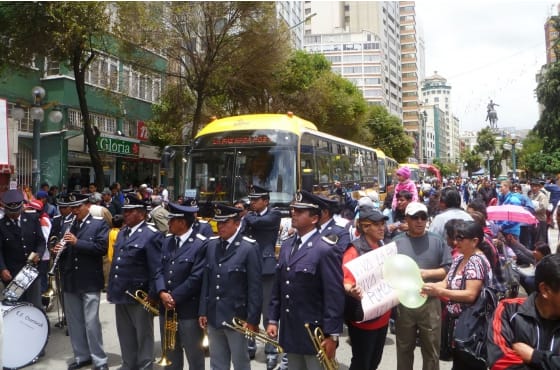 La Pas Citizens are Celebrating the Launching of King Long Coaches
"The breakthrough made in Bolivia these years is a win-win result of the cooperation between King Long and the excellent distributors in Bolivia, and it is also a miniature of King Long going global." said Zhang Bin, general manager of King Long. He also claimed, "Now we are standing on a new starting point, and we hold to the belief that with the implementation of 'the Belt and Road Initiative', there will be more King Long vehicles going global!"