Gulang Island in Xiamen Placed in World Heritage List
2017-07-28
On July 8, Gulang Island was placed in the List of World Heritages at the 41st Session of World Heritage Committee, UNESCO held in Krakow of Poland. China now has 52 World Heritages, one of the countries with largest number of world heritages!
The Island or the World?
Some people say if one walks around the Gulang Island, he is touring the whole world. In the 100 years ranging from the middle of 19th century to the middle of 20th century, Gulang Island witnessed the great shocks and exchanges between Oriental Culture and Western Culture. It saw how the Chinese people, based on traditions in the south of Fujian, were working hard to maintain the traditional culture while realizing modernization in the special background of history and culture. These efforts are seen in the most distinctive buildings on the Island. At the same time, this Island is the home to many first things in China, including the first photography, the first soccer sport, the first girls' school, and the first kindergarten, etc. Gulang Island, where the East meets the West, remains calm to see the flying time and the evolution of culture. This is why Gulang Island is selected as the World Heritage.
The Pretty and Romantic Marine Garden
Gulang Island, covering 1.78km2 in the southwest of Xiamen, got its name in Ming Dynasty because the shores on it produce the sound of drum-playing when waves rush on shore rocks. With soothing climate all year round, Gulang Island has coastlines and waters of all forms. The Sunrise Rock, Mount Bijia, Mount Shengqi and other fascinating landscapes. The blue waves, white clouds and green trees are mixed among buildings, landscape gardens and other man-made scenery to produce the Marine Garden.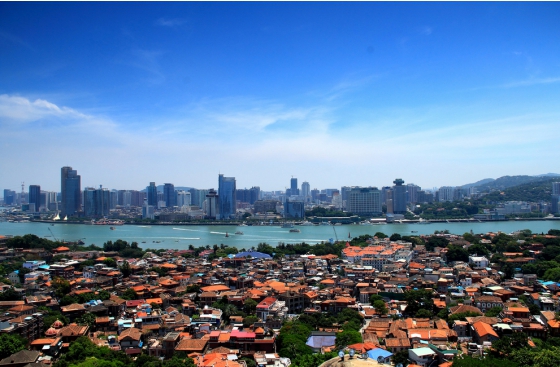 History will always remember July 8, when Gulang Island was placed in the List of World Heritages, bringing more glamour to the Island. 800 years ago, Gulang Island was simply a barren island. But today, it has grown into a world-class island of culture and art, and a most-famous biz card of the beautiful city of Xiamen.
Practitioner in Environment and Green Development
It is extensively known that no motored vehicles are allowed to drive on Gulang Island, which has extremely fresh air and is free from the urban noises. Island inhabitants travel on their feet, bicycles or handcarts. They travel between Xiamen and Gulang Island on ferry boat.
Xiamen, where Gulang Island is located, has always encouraged green travels. As one of the most famous enterprises in Xiamen, King Long is the pacesetter in new-energy coach manufacturing industry, providing holistic solutions to public transport system in Xiamen. Nowadays, most public bus operators in Xiamen use King Long buses. King Long, in a low-profiled way, works hard to protect the World Heritage Gulang Island. Welcome to Xiamen in King Long buses.