2017 Busworld Opening Soon !King Long Will Exhibit Made-in-China ECO New Energy Buses
2017-10-10
From October 20 to 25, the world's first-class bus manufacturers will gather again at Kortrijk, the famous historic and cultural city of Belgium. As the world's biggest and oldest bus exhibition , Busworld Show, will be held in Kortrijk Exhibition Center in Belgium. As the first Chinese bus manufacturer attending this exhibition, King Long will participate in this exhibition for the 7th time, exhibiting four competitive products including Longwei II, and demonstrate the latest technologies by high-tech interactions as well.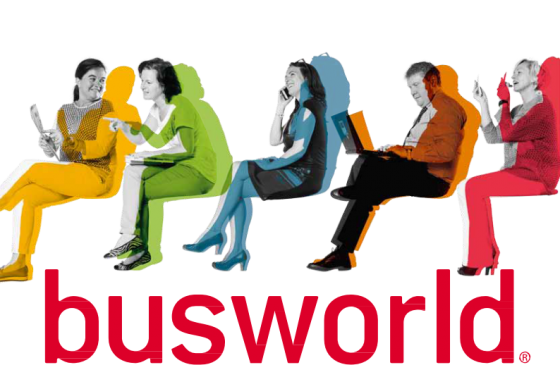 Representative of Chinese Element at Busworld
On October 21, 2005, Chinese buses were exhibited for the first time at the 18th Busworld. At this world's most influencing bus exhibition, two coaches independently developed by King Long were displayed, and historically showed the image and strength of Chinese buses to the world. At every Busworld exhibition thereafter, King Long have exhibited bus models customized for EU market, demonstrating King Long's role as Chinese representative in the world's bus structure, and initiated the globalization of Chinese buses.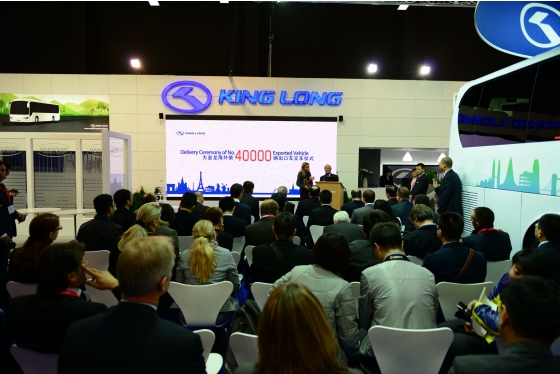 King Long holds delivery ceremony for the 40,000th export vehicle at Busworld in 2013
In 2005, following the first appearance at Busworld, King Long officially entered EU market and performed excellently. As the first Chinese bus manufacturer qualifying the strict EU certification, King Long started to export coach, city bus, and inter-city bus, in batch to more than 10 EU countries, including Italy, U.K., France, and Malta, successfully forming a cooperation business mode with big European passenger transport companies.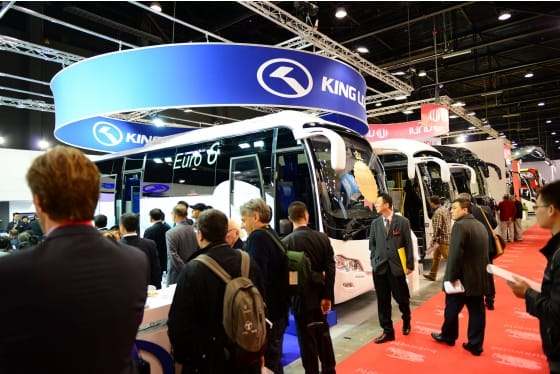 For more than 10 years, by taking the opportunity of the Busworld and experience in European developed markets, King Long continuously absorbs the advanced bus manufacturing technologies and ideas. Improving in terms of technologic innovation, process improvement, quality control, and brand building, King Long has driven the rising of Chinese buses in EU market and transforms Chinese bus brands from good to excellent.
Made-in-China ECO
The appearance of Chinese buses at world's top-class exhibition also exhibits the achievements of made-in-China buses. In 2015, by theme of "Solution ", King Long showed the ability for offering the perfect passenger transport system solutions. In terms of energy-conservation, King Long presented the new energy electronic control system and announced the strategic cooperation with world's top-class new energy suppliers. In the recent two years, following the progress of Industry 4.0 and the strong support of national policy on new energy market, Chinese new energy product technology has achieved continuous breakthroughs in market practice in larger scale. Both the products and technologies are in lead of world level. Meanwhile, following the upgrade of consumption in recent years, Chinese bus manufacturers are promoting more excellent and high-end products to the world, in order to improve brand value and realize the transformation of made-in-China export buses.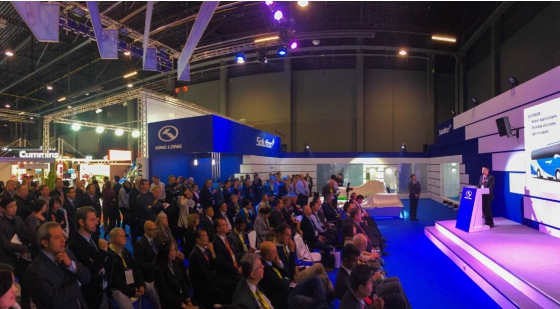 King Long's exhibition theme "Solution+" in 2015
At this background, King Long will launch the theme "ECO for better move" at this exhibition. E stands for "Environmental friendly", C for "Craftsmanship", and O for "Originality". Centering on this theme, King Long will exhibit four brand-new models developed as per needs of European market, namely Longwei II C13HD 13m large bus, C9 9m new medium bus, 18m BRT, and APE14 14m pure-electric shuttle bus. It's reported that new energy technology experience will be presented by high-tech means at the site.
EU version Longwei II C13HD
Longwei is a classic product of Chinese independent bus brands. Longwei II is upgraded by 10 years of technology accumulation, was ceremoniously launched in Beijing in May, becoming a representative of made-in-China high-end buses. The competition of Longwei II with world's top bus products at this Busworld, represents its power and strength. Longwei II C13HD at this Busworld is built by King Long throughout one year specially for EU market and completely meets the current EU regulatory requirements. In items like safety, it is even more superior than EU standard.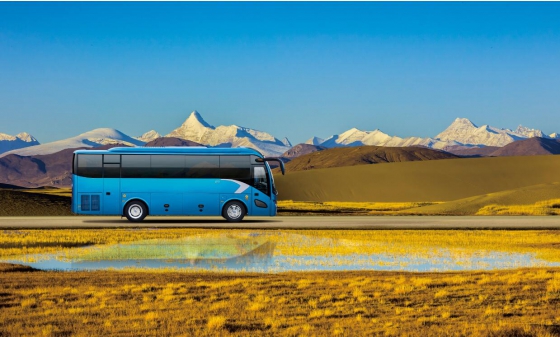 All-new upgraded C9 medium bus
The C9 medium bus can be deemed as the star model of King Long in European market, as well as the best seller in EU in recent 10 years. The C9 medium bus at this Busworld is significantly upgraded for the first time in appearance and performance. In order to improve in beautifulness, safety, environmental-friendliness, economy, and comfort.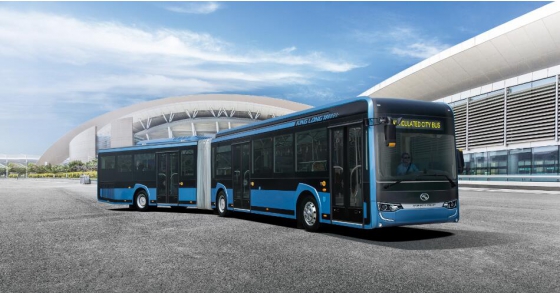 18m BRT
The newly designed 18m articulated bus incorporates beautifulness and practicability. The capacious interior space, intimate upholstery, and application of environmental-friendly material guarantee a pleasant and comfortable journey. The comprehensively optimized structural layout of electric parts and the improvement in multiple details, including front wall, interior access panel, and electric harness arrangement, guarantee the convenience of maintenance. The application of 3H vehicle body, birdcage type structure, cathode electrophoresis treatment, King Long wisdom cloud service platform, and active safety effectively guarantees the traveling safety by technology power.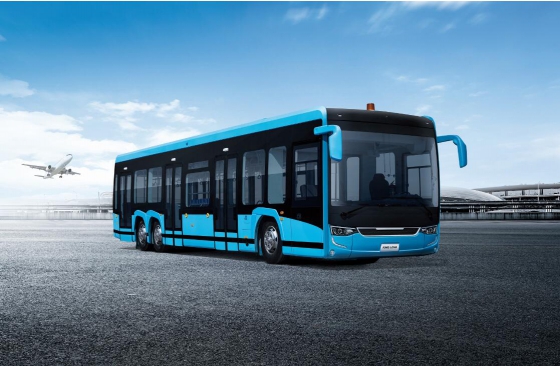 14m pure-electric shuttle bus APE14
The pure-electric shuttle bus APE14 is an energy-saving and environmental-friendly new energy product for airport shuttle. The multiplex distributed wheel hub drive, double-charger DC quick charging, and 20min quick charging can meet the scheduling needs and realize 100% operation efficiency. The green pure-electric bus is better applicable for the airport road operation mode of low average speed and low gradient. It features outstanding performances in terms of power performance, safety, and road applicability.
Besides the exhibit vehicles, the high-tech interactive presentation for King Long's latest technologies in the site will also be exciting.
Welcome to attend King Long's exhibition booth at 2017 Busworld Europe Kortrijk. Let's work together to offer made-in-China ECO new energy buses for European market.
Exhibition location: Kortrijk, Belgium
Booth location: Booth 401, Hall 4.