160 Hybrid King Long Buses Will Operate in Yancheng
2014-07-07
The first batch of 160 plug-in hybrid buses by Xiamen King Long has been delivered to Yancheng Public Transport Company on 2nd July 2014. With 102 hybrid buses that started operation since the end of last year, these buses, including 40 units of 12-meter plug-in oil-electric hybrid buses and 120 units of 10-meter plug-in oil-electric hybrid buses, makes Yancheng Public Transport Company one of the forerunners in promoting new energy buses in Jiangsu province.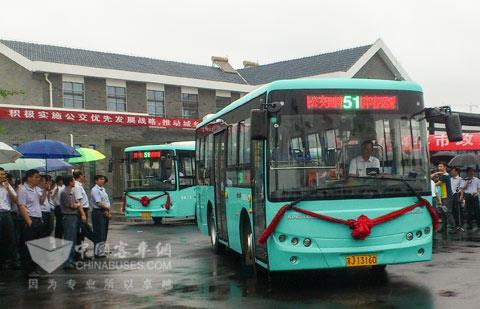 Considering the low speed and frequent switch on-off of city buses, XMQ6127GHEV19, the bus model of 40 plug-in hybrid buses of this batch, adopts the hybrid controlling system and the dual energy storing technology. The new model can ensure the energy supply, prolong the battery life and reduce the oil consumption. It signifies the transition of Xiamen King Long from the traditional hybrid bus model to the plug-in hybrid platform with the debut of the novel new energy buses.

Since the first hybrid bus using lead-acid battery making its debut in 2001, Xiamen King Long has been accumulating 13-year experiences of researching into new energy buses. Its energy saving and new energy buses, including plug-in and pure electric buses, have been running in most pilot cities in China.

At present with various bus models such as 10.5-meter, 11.5-meter and 12-meter, the new energy buses by Xiamen King Long could meet the operating requirements of different routes in different cities with the best energy saving solution. Therefore, it could well satisfy the various needs for the green buses operating in cities.