King Long 18-Meter BRT Bus Speeds Up Transport in Nanjing
2014-07-25
On Jul. 24, a grand ceremony was held to mark the delivery of the first batch of 18-meter BRT buses manufactured by King Long to its customer, Nanjing Jiangnan Public Transport Co., Ltd. Song Aiguo, Deputy General Manager of Jiangnan Public Transport, received the Golden Key from King Long and presented the company's silk banner with the company's compliment "High Quality Showcases King Long's Brand Image, Heart-warming Services Ensure Smooth Traffic" to the bus maker. As the two companies have been in cooperation for six years, the silk banner expresses the bus operator's high regard towards King Long.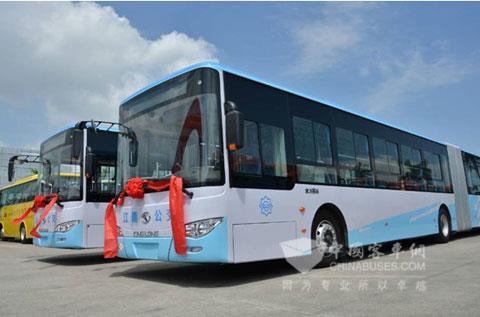 After arriving in Nanjing, the five units of 18-meter XMQ6180G buses will be put into operation in the BRT routes in the most bustling area in Nanjing, helping the city achieve higher passenger transport efficiency.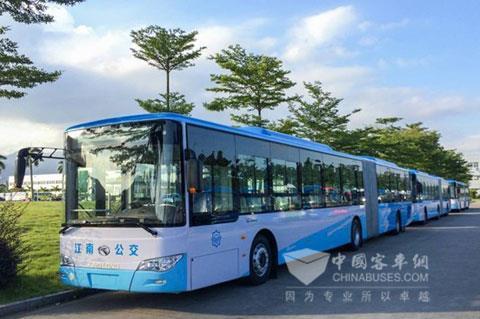 As a fist product of King Long, XMQ6180G boasts unique design, large passenger loading capacity, high environmental friendliness. It has been proved remarkably helpful in relieving urban traffic jams. So far, it has been highly recognized after being put in operation in Xiamen and Zhongshan.