King Long Stages a Grand Appearance at Fujian New Energy Vehicle Fair
2014-10-14
On Oct. 10, jointly organized by Fujian Provincial Automobile Industrial Association and Provincial New Energy Vehicle Technological Innovation Strategic Alliance, Fujian New Energy Vehicle Promotion and Application Conference & Fujian New Energy Vehicle Fair were held in Fuzhou Straits International Exhibition Center. The conference is aimed at publicizing and further implementing the Guideline on Speeding up the Application of New Energy Vehicles released by the State Council and Fujian Provincial Government's Eight Measures on Speeding up the Application of New Energy Vehicles. From 2014 to 2015, Fujian Provincial Government is planning to put 10,000 new energy vehicles on the road with 2,480 units in Xiamen. King Long, as one of China's leading bus brands, brought its eco-friendly bus models on display, showing its great efforts to create a large-scale well-renowned electric automobile production base in Fujian.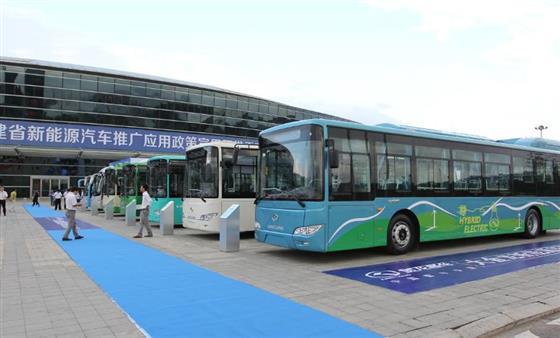 During the fair, King Long brought four units plug-in hybrid buses and three units electric buses. Among the seven green bus models, its 12-meter plug-in ISG hybrid bus and 6-meter electric mini-bus grabbed great public attention. The 12-meter XMQ6127AGCHEVD41 plug-in ISG hybrid bus, with monocoque chassis, boasts high stability while in operation. With high energy efficiency, the vehicle delivers highly reliable performance. Just like the 6-meter electric mini-bus, the 12-meter green bus is equipped with fast-recharging batteries, which ensure the maximum operation time on the road and help the bus operators cut daily operating costs. The 6-meter XMQ6661AGBEV is aimed at providing effective transportation solutions for urban large-scale living communities. With strong agility and small body structure, the mini bus can be fully recharged in 15 minutes, which is one of the most attractive features of the vehicle.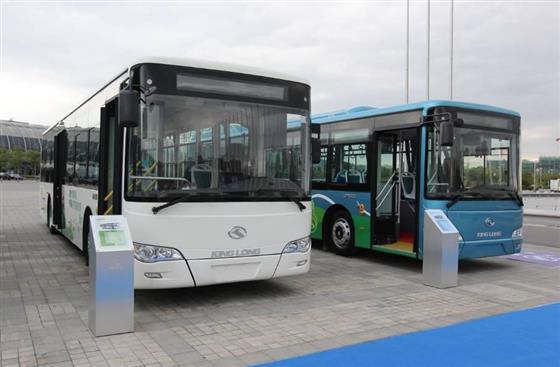 During the conference, Xiamen Lineng Electric Vehicle Rental Company, King Long and two other auto makers signed an agreement on strategic cooperation for new energy vehicle purchases, representing a huge step forward for popularizing new energy vehicles in Fujian.