King Long & Xray Jointly Release China's First Mobile Treatment Vehicle
2014-10-28
On Oct. 23-26, China International Medical Equipment (Autumn) Expo was held in Chongqing International Exhibition Center, China. King Long, together with Shenzhen Xray Electric Co., Ltd releases a new conceptual mobile medical treatment vehicle. Compared with a normal health check vehicle, the new one is equipped with sliding cabin, providing much more spacious and comfortable medical treatment environment. The release of the new vehicle represents a new trend for the mobile medical treatment in the future.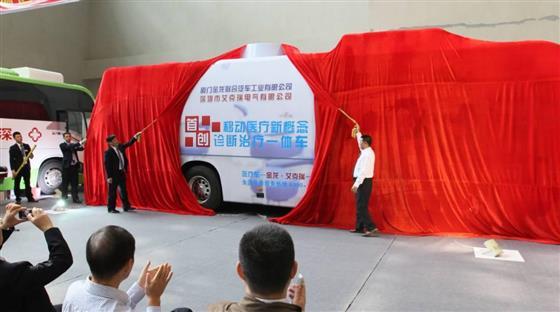 Since their cooperation, King Long and Xray have both greatly strengthened their brand image in the market. Now taking the lead in the special vehicle market for medical treatment, King Long is making the best of the Medical Equipment Expo to promote its brand new type of medical treatment vehicle, which is versatile for various treatments in different medical departments, such as Dental Care Department, Operation Room, Maternity Department, Department of ENT and Bio-Chemical Analysis Room. In an effort to meet the huge medical treatment demand from the rising number of the aging people, King Long and Xray released China's first Health-check Vehicle at the expo. With low-floor access, the new vehicle provides much easier access for the old, attracting widespread media attention.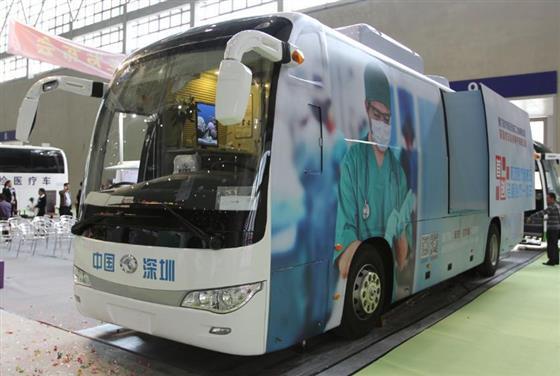 Thanks to the two parties' cooperation, the special vehicle for medical treatment is born with full consideration of the prevention of radiation for medical workers. To date, King Long has become a trustworthy equipment supplier for a large number of hospitals across China.