King Long Delivered 10 Plug-In Hybrid Buses to Anshun Customers
2014-12-24
As new year is coming, Anshun is having the first group of new energy buses. On December 17th, 2014, the delivering ceremony of King Long and Anshun Jiahe Automobile Transportation Co.,Ltd was held in King Long factory. King Long delivered 10 sets of plug-in hybrid buses XMQ6106AGHEV10. This batch of vehicles will be running in 2015, as a "gift" for the New Year, brings a brand-new riding experience for the citizens.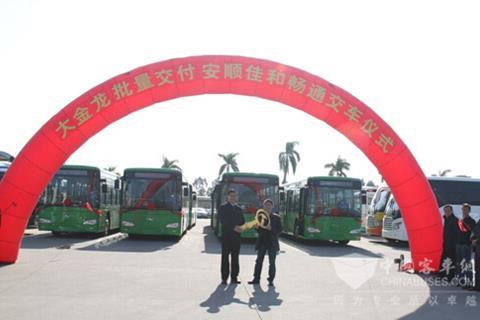 Anshun Jiahe Automobile Transportation Co.,Ltd is one of the main transport enterprises, mainly engaged in rural, intercity, tourism and long-distance passenger transport, has more than 300 sets of operating vehicles, cooperated with King Long. The reason of having a great relationship with King Long, deputy general manager Zhou Huaijin said: "we prefer King Long brand because of the appearance, quality, technology, price and service advantages. First we bought XMQ6118, then continue purchasing a variety of models of sightseeing bus, now our company tourism buses were almost all King Long."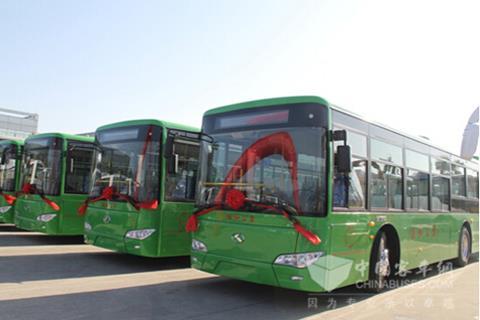 Reporters saw the delivering ceremony, XMQ6106AGHEV10 body used the green color symbolized the environmental protection, pure fresh and beautiful appearance. According to King Long technical personnel, the emissions of models for LNG hybrid, throttle rate was 49%, compared with LNG bus, low carbon and environmental protection. In addition, the adoption of AMT system, lithium battery and the full bearing body, to ensure the vehicle stable and reliable. It is reported that the number of vehicles will be into the use in distance between Anshun and Puding county. Believe that with this batch of vehicles into operation, Anshun intercity buses will have a new age of new energy.