King Long New Energy Buses Delivered to Haikou
2015-01-21
On January 16 2015, 20 units of King Long XMQ6106AGHEV11 are delivered to Haikou Liulong Touring Bus Company. The batch of buses are equipped with plug-in fuel-electric hybrid technology that are fuel efficient, low noise and fitable for local operation condition.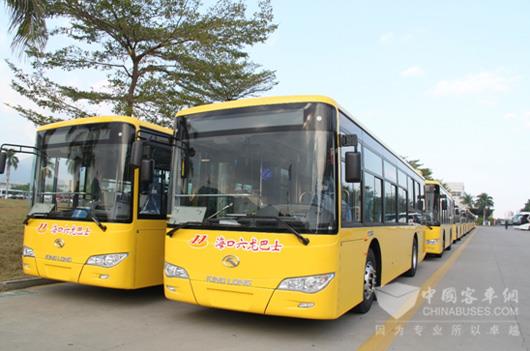 The batch of XMQ6106AGHEV11 buses have been optimized based on the operation condition of large load and frequent starts and stops. Specifically, the idle-stop technology sustainably reduces fuel consumption by stopping engine when in low speed condition; the brake energy storage device recovers the braking energy; the parallel connection of the lithium battery stack and super capacitor enhances the battery capacitor that increases the millage.

With the concern for the harsh weather condition in Hainan, XMQ6106AGHEV11 equipped rear battery that wading height is increased to avoid battery damage from water.