King Long "Leifeng" Buses Delivered to Liaoning Province, China
2015-02-09
Fushun, a city of Liaoning Province, China, is called the second hometown of Leifeng. Dedicated into serving people and learning from the sprite of Leifeng, the Liaoning inter-city buses operated by Liaoning Intercity Bus Company are called "Leifeng Bus".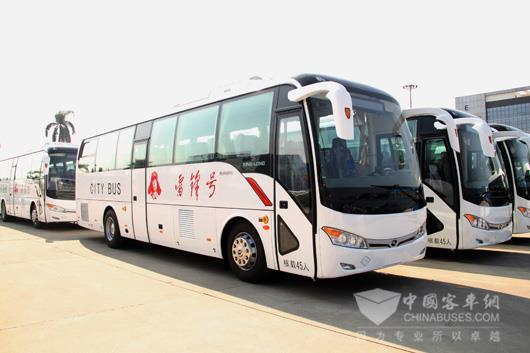 Recently, 10 units of King Long XMQ6101AYN5C LNG "Leifeng Bus" are delivered to Liaoning to serve the Spring Festive travel between Fushun and Shenyang. Printed "Leifeng Bus", the King Long bus is an impressive scenery line on the road.

Equipped with 450L LNG cylinder that the bus covers a longer mileage. The seats that can move sideways make it more spacious between each seat that it is more suitable for northern people who are high in shape.
Source: www.chinabuses.org