King Long EV Serves China EV100 by Securing Warm Travel in Cold Beijing
2016-01-25
On January 23-24, China EV100 Forum 2016 was held in Diaoyutai State Guesthouse in Beijing, which took the theme of building competing, sustainable and sustainable industrial ecology. The Forum was attended by Minister of Wan Gang of Science and Technology, Minister Miao Wei of Industry and Information Technology and other government officials, academic experts, leaders of research institutes and corporate representatives. Just as what King Long did for the many domestic and international events, it provided 22 pure EV buses for the China EV100, securing 24-hour green transport service for the event.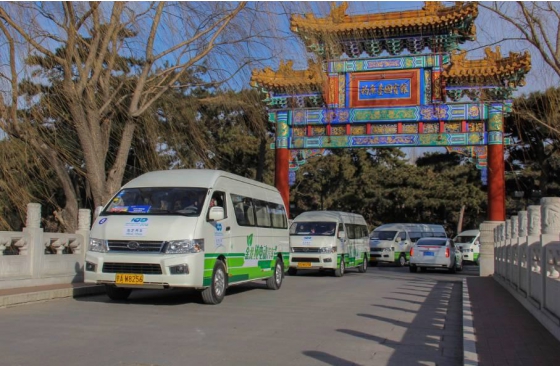 As the third-party think tank established in May 2014 in the Chinese EV field, China EV100 has received great attention from within and outside China and gathered elites such as government officials, academic experts, researchers and entrepreneurs. By serving the event, King Long New Energy receives recognition from the organizing committee of the authoritarian seminar in the industry. When Beijing was suffering from the extremely-low temperature, it posed the serious test of the performance of new-energy vehicles. Since 8 o'clock in the morning, 22 King Long pure EV vehicles, KINGO started to travel between the hotels and Diaoyutai State Guesthouse in Zhongnanhai.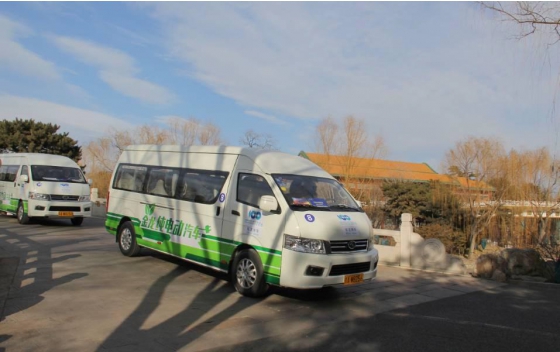 The pure EV KINGO, a boutique model of King Long New Energy, was chosen to serve the event. It was favored by the market because of the excellent performance, safe full-loading design, robust power, super-long distance per charge and convenient charging model, thus widely used in business reception, commune, public bus and other fields. It is worth noting that, before designated as the Official Vehicle of China EV100, the model was also used to serve other large events such as the 1st Youth Games and 2016 Xiamen International Marathon, etc. Because of the zero emission, zero pollution and zero noise, it has received praise from all relevant parties. The wonderful performance, quality and rich experience of King Long New Energy lay a solid foundation for the vehicle use for China EV100 in this event.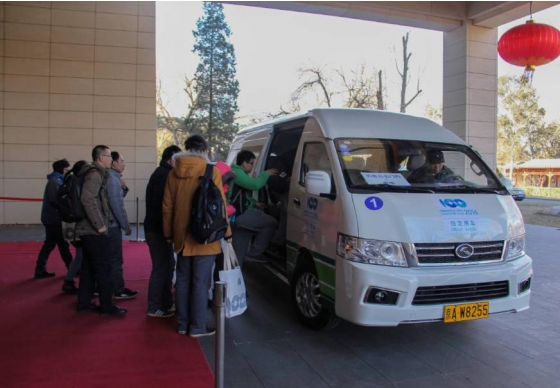 Besides, the successful service of KINGO for China EV100 is also attributed to a powerful background system, the "intelligent cloud service platform" using IoV technologies developed by King Long independently. The platform is able to monitor the real-time state of operations of each vehicle, including the remaining power, charge-discharge state, positioning, voltage and currents, etc. In the back stage, staff can conduct safety management of vehicles at any time, dispatch vehicles in a timely, rational and efficient way, provide real-time monitoring & management on mobile ends, and gain first-hand info of new-energy vehicle operations.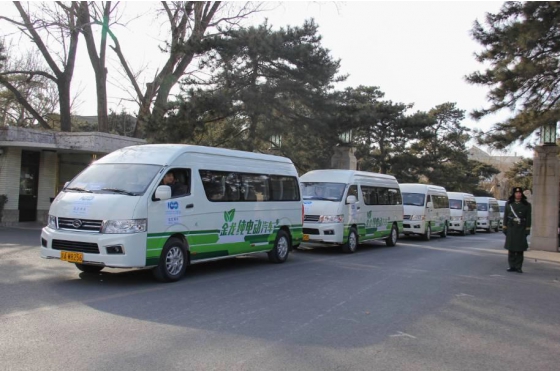 The vehicle has solid quality with real-time background monitoring. Besides, best drivers were chosen to serve the event, thus securing the zero-emission commune service during the event. "I have been working as the tour bus driver for 17 years. And it was the first time for me to drive the pure EV bus. And I feel really nervous when driving the bus into Diaoyutai in such cold weather in Beijing", said Mr. Li, driver of Bus 22. "It took me only a few minutes to learn how to drive the pure EV bus. Besides, the KINGO bus has agile reaction to acceleration, even more powerful than buses using traditional fuels". All drives of buses serving China EV100, just like Mr. Li, had never driven pure EV vehicles before. After receiving professional training from King Long technicians, they worked on KINGO bus in a perfect way and successfully served the meeting & commune service for China EV.
In 2001, King Long developed its first hybrid bus based on lead-acid battery. 15 years has passed and King Long new-energy buses are most favored in the domestic and international markets because of such features as efficiency, energy saving, economy and environmental protection. Its products include the hybrid, plug-in hybrid and pure EV, covering all new-energy bus product lines ranging from 5.5 to 12 meters. In 2015, nearly 5,000 King Long new-energy buses were sold, rising by more than 500%, faster than the average growth rate in the new-energy bus industry. King Long New Energy rose fastest in this year, helping with sustainable development of new-energy buses in China. In the future, King Long will continue to create more possibilities, by adopting sci-tech innovations, for green travels.