Faster Than 500%: Behind the Exceptional Performance of King Long New Energy
2016-01-21
In 2015, sales of King Long new-energy vehicles grew by more than 500%, much faster than average growth rate of new-energy vehicle industry. In 2015, King Long New Energy achieved explosive growth, providing the most powerful driving force for future development of its new-energy vehicles. When reviewing these achievements in the year end, we find in 2015, King Long New Energy harvested more than growth rate. Its greatest harvest was the great market recognition and successful cases of new-energy vehicle service.
King Long has 14-year experience in developing and manufacturing new-energy buses. It keeps developing and manufacturing vehicles based on independent technologies and actual needs of vehicle operation, thus securing sustainable development of new-energy buses. In May 2015, King Long launched the ECO-Chip new-energy management system, the versatile solutions to new energy, in Beijing Bus & Truck Expo. The system, by making in-depth control of motor operation, charging model, intelligent model switch, vehicle driving control and safety guarantee, establishes 5D value-driving system and releases more operating values of King Long new-energy products.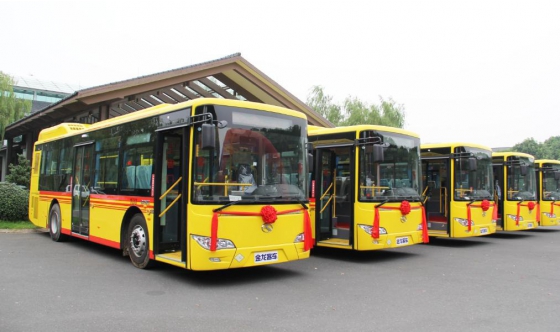 In addition to ECO-Chip system, the plug-in hybrid public bus represented by XMQ6127 was also seen in the Expo. The bus adopts the independently-developed ISG technology. Equipped with ECO-Chi system, it solves problems regarding fuel consumption, weak slope climbing and difficult rapid charging that exist in traditional hybrid buses. Compared with models of same type, it is more powerful, safer and more efficient.
By launching new-energy solutions and independently-developed ISG plug-in hybrid vehicle, King Long presented its technological capacity in new-energy buses. The sand map displaying the operating theory of ECO-Chip plug-in hybrid united system in the booth of King Long in Bus World Expo in Belgium in October 2015 reveals the important step of King Long to promote its new-energy vehicles in the overseas market. In the era of big-data and Internet, advertising is very important. By exhibiting the independently-developed new-energy electronic control system, King Long realized innovative promotion of Chinese new-energy buses in other countries.
"It is the first time for the Chinese bus enterprises to display new-energy technologies on the international stage. It greatly encourages manufacturers to consolidate technological foundation and continue to develop new-energy vehicles", said principal of King Long New Energy.
The exit mechanism of subsidies for new-energy vehicles in 2016-2020 reveals again the key to new-energy development lies in technological and product innovation. Only by fully meeting actual needs of the market can we gain sustainable development. And to ensure products meet the market needs, it is imperative to secure safe and efficient bus operation. In 2015, King Long contracted large-sum orders of new-energy vehicles. The new-energy products in the entire line cover most of the new-energy pilot-test cities in China. Each order won good reputation for King Long New Energy.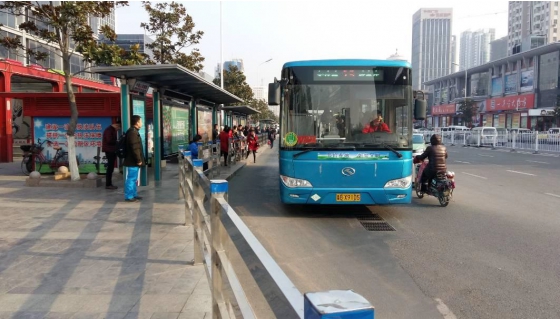 In August 2015, 200 King Long plug-in hybrid vehicles were delivered to Keqiao Public Bus in Shaoxing. The vehicle adopts ISG system and is equipped with diverse composite rapid-charging Li-battery, which can be charged full in 10 minutes. In the international working condition, the pure EV mileage per charge exceeding 35km makes it a plug-in hybrid bus that meets requirements for public buses. "In light of mixed public-transport routes and timing of resident travels in Keqiao, King Long provides the economical and practical 10.5-meter bus. And it adopts the top design for the battery unit and control system," said Yang Ping, Vice President of Keqiao Public Bus in the interview, "This batch of new-energy King Long buses is being put into use gradually. New breakthrough will be made in green transport network in the district. And air pollution control has been pushed forward."
In December, 100 King Long new-energy buses were delivered to Zhenqing Bus in Qingdao. Painted in marine blue, King Long new-energy buses will gradually replace the buses exceeding emission standards that are operating in the West Coast New District. In this way, it supports construction of West Coast New District focusing on marine economy with energy-saving, emission reduction and low-carbon travel. "In January 2015, 30 King Long new-energy buses, as the express-line buses in the New District, provide transit between urban area and West Coast New District. At the same time, by adopting the model featuring big stops and express buses, they constitute the first new-energy plug-in "green trunk line" in Qingdao. Again, 100 King Long buses get integrated into the green transport network in the new district, which will definitely accelerate promotion and application of new-energy buses in the New District and establish the harmony situation in which green transport promotes development of marine economy", said Sales Principal of King Long.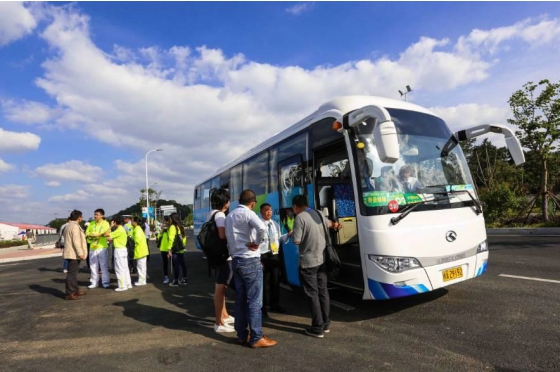 In October 2015, the first Youth Games was held successfully in Fuzhou. In the national comprehensive games, which was also the largest and most important event ever hosted by Fujian, the topic of "green" and "environmental protection" was seen everywhere. In particular, the Youth Games, for the first time, used new-energy buses to provide commune service. 150 pure EVs of King Long took the tasks of transporting media, staff and audiences, ensuring the Youth Games was low-carbon and environmental.
To make sure all new-energy vehicles are operating safety and efficiently, King Long has established the professional team for operation service of new-energy buses. With excellent performance featuring zero breakdown, zero dispatching problem and zero service defect, it successfully provided commune service for the event, thus setting up a model for the Chinese new-energy autos to serve major events. As said by the King Long New Energy principal, "Practice is the sole standard. In the parade of Youth Games, King Long new-energy buses made exceptional performance, which was the best recognition of the products. By taking Youth League as an opportunity, we have developed the demo of new-energy vehicles serving major events, and promoted the holistic solutions to new-energy vehicles, thus ensuring more events will be served by them."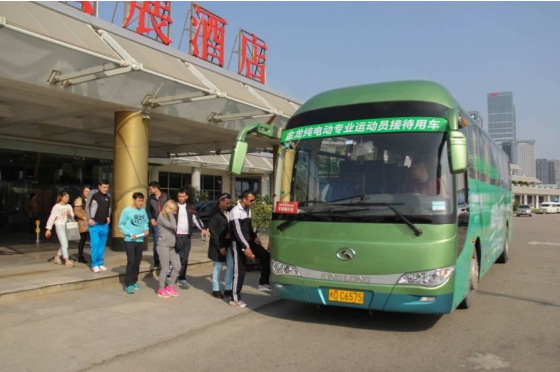 After King Long successfully served the1st Youth Games, Xiamen International Marathon was opened in January 2016. King Long new-energy vehicles again served the event. The zero-emission, zero-pollution and zero-noise pure EV of King Long served the specially-invited professional athletes and 100 athletes coming from mainland China and Taiwan. As the sole designated bus for the event, it was also the first time for King Long to provide pure EV to serve commune in the event, helping it to become the first zero-pollution marathon in the world. In the marathon tracks, running team of King Long also showed the banner "salute to runners" to give respect to runners and marathon spirit. Over the past 28 years, the Chinese bus brand King Long has kept running with the mentality of a runner. It will never cease its efforts to promote new-energy vehicles.