To Meet Your Flexible Demands - King Long's Spirit of Craftman
2016-10-14
Every King Long person has always kept the faith of "create customer satisfied product". King Long people stick to the concept of user orientation and product vitality during product innovation, and elaborate every product to create a brand that could be handed down for generations. With 28 years of efforts, "King Long Craftsman" has gained a number of honors for national bus manufacturing industry by keeping improvement, and following the craftsmanship of dedication, innovation and perfection.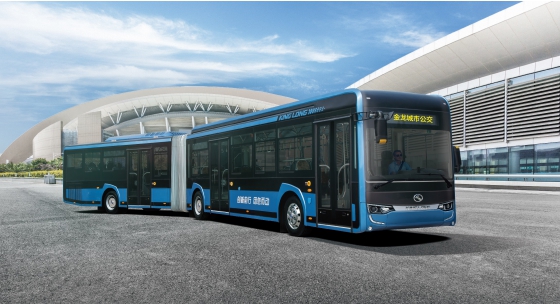 Ingenious layout and constant market effort
Behind the outstanding market performance and wide brand recognition are excelsior faith and unvarying "craftsmanship". King Long vehicle reveals current market focus, and gives the priority to user's need to strive to provide users with perfect product and service.
King Long firstly developed the new brand concept of "innovative advance depending on you" in 2016 Beijing International Exhibition on Buses and Trucks in May, and initiated "King Long travelling library" project with our newspaper. King Long leader said King Long vehicles will be manufactured "depending on you" to define every product based on the need of customer per km and the need of urban bus. With the introduction of new brand concept, a series of activities will be implemented gradually.
Innovative advance and product customization as needed are aimed to provide more excellent service to customers. Over the years, King Long has made unremitting efforts in the market, as well as product and service innovation. "What product customers need, what product we manufacture". King Long leader took an example. WhenIranshipping company put forward different customized configuration demands in dimidiate door, high-performance engine and air suspension, King Long, as one of vehicle enterprises that firstly set food in manufacturing 18m BRT in the domestic, not only met all the demands, but also conducted reliability test for the batch of products. As a result, the second and third batch of orders comes in a continuous stream after delivery of the first batch of products.
By the prominent cost effectiveness, stable performance, excellent workmanship and attractive appearance, King Long bus firstly caught the eye of Saudi Arabia largest state-owned shipping company when it firstly selected Chinese brand bus. Now, King Long bus has become the "star" of local people, and even some people "clearly express" the intention of taking King Long bus.
With globalized layout and unremitting efforts, King Long bus has also been popular in the overseas market. 2015 witnessed delivery of 1,060 King Long school buses toSaudi Arabia, and export of 660 King Long buses toThailand, etc. The innovation in the technology and service of King Long bus is highly recognized by foreign market. Up to now, King Long buses have been exported to more than 120 countries and regions, with sales of nearly 70,000.
Technological upgrade to create fine product
Over the years, King Long people have disciplined themselves strictly by the "spirit of craftsman" and followed user's need closely to strive to realize product refinement. King Long people make every step steadily from past concept "detail shows specialization" to current concept "innovative advance depending on you" and from establishment of King Long Bus Research Institute to the listing of "city light" series buses, demonstrating the solemn promise and fidelity to service targets.
Product refinement requires painstaking efforts in technology research and manufacturing process. In the past 28 years, "technological upgrade" has always been the development focus of King Long bus. King Long leader said, just from 2009 to 2013, King Long invested more than RMB 500 million in the construction of R&D center, test center, high-end production line, vehicle cathode electrophoresis workshop and ERP system, etc.
King Long Bus Research Institute was formally formed in 2015. By adherence to the idea of platformization and modularization, King Long Bus further improves vehicle development and management through database and knowledge base construction, which ensures the inheritance of professional knowledge and skills.
King Long Bus keeps improvement in process and strives for perfection in design to support brand by excellent product matrix. Based on bus market characteristics and customer's need, King Long Bus applies the latest technology in product, constantly subdivides market, and finally creates a number of products such as "city light" series, and King Long new five series. Meanwhile, King Long Bus upgrades easydrive 2.0 system, King Long smart cloud service platform, and various products such as passenger bus, new energy vehicle, special vehicle and school bus.
Apart from visible and tangible products, the soft power such as customer-oriented service concept and dedication spirit is also a highlight for King Long Bus to demonstrate its "craftsmanship".
To respond to customer's need timely and rapidly, King Long sales team make communication and coordination well and positively provides service before, during and after sales. In terms of after-sales service, King Long Bus dispatches the service engineer with strong technical competence to follow up service in the whole process, and ensure vehicle normal operation. Besides, King Long Bus provides zero-failure guarantee for many important activities such as "Two Sessions", Olympic Games, World Expo and Youth Games by utilization of smart cloud platform and advanced technology.
Inheritance cooperation to sharpen up "craftsmanship"
Craftsman is a man who tempers its mentality and works hard to study something. "Craftsmanship" is a golden key for building "century-old shop. "Striving for perfection" is exactly the corporate culture developed by King Long Bus for many years.
To further verify product quality, two new energy buses of King Long departed from Xiamen in March to Mohe, the northernmost tip of China, to experience extreme cold challenge. Although most of new energy bus test team members have never been to the northeastChina, the cold weather didn't ice their enthusiasm at all. In Mohe in March, the best test time is in the wee hours. Team members went out early and came back at dusk every day, with defrosting test completed at 01:00, and new round of test at 05:00. But, King Long people ploughed on, and never complained. It is exactly the excelsior work attitude and elaborate style that give rise to today's King Long.
"Manufacturing enterprise manufactures product after 'manufacturing' people". King Long leader told reporter that "it is much more difficult to cultivate "craftsman" than manufacture excellent vehicle". King Long Bus is fully aware of the importance of "technology inheritance" in manufacturing enterprise. To cultivate "King Long craftsman", King Long Bus develops long-term study mechanism to enrich learning and training pattern, and cultivate first-class technology expert in bus manufacturing industry. At the same time, King Long Bus uses the technical training mode of "guidance of the greed hand by the skilled worker" to enable every new employee to enjoy the "one-to-one" learning opportunity by a skilled employee. Thus, the craftsmanship and King Long spirit are passed on to the batches of King Kong buses.
High-tech talents are in urgent need at grassroots level. To form high-quality team, King Kong Bus cooperates withXiamenvocational technology college to jointly launch talent training. They set up "King Long" class, and use King Long bus as teaching model in important processes such as manufacturing, repair and maintenance, in order to efficiently cultivate high-level talents.
"King Long Craftsman" reflects the constant improvement in technology, and relentless pursuit of excellence. To upgrade product quality continuously, manufacturing department will speed up the implementation of "King Long Technician Studio" project. It is understood that "King Long Technician Studio" is a "think tank" composed of senior technical workers and technical engineers transferred from manufacturing frontline and research institute, which is aimed to address all technical and process problems in important projects such as new energy vehicle and new bus "city light" series.
"Craftsmanship" runs through the entire manufacturing process, which is not only needed by frontline workers, but also long held by technicians and research personnel. King Long cooperates with many renowned academic institutions such as Tsinghua University, Jilin University and Institute of Electrical Engineering of the Chinese Academy of Sciences by the pattern of "enterprise-research institute-university" to carry out technical talent cultivation and technology industrialization exploration. Besides, King Long works together with Xiamen universities to establish training base and hold large skill competition, showing the stepwise implementation of "craftsmanship" in different forms.